How to Create an A-Winning Book Report? Students' Guide

Since the beginning of time, students of all generations had to write book reports. Interpretation and analysis appeared parallel to writing, and these traditions cannot exist apart. If you are not inspired by the idea of writing such an assignment and find it boring, remember that interpretation is a great practice that expands your horizons. Analysis of written texts allows you to get new experience and discover new angles: you have a chance to open your eyes to people, problems, ideas, places, and situations and see them in a different light. At the same time, this is your great chance to show your professor that you understand all the details of the text you read.
A book report: what kind of assignment is that?
Book reports summarize texts – both fictional and non-fictional. Sometimes, such papers may include your subjective opinion and personal evaluation. However, in general, a student's task is to tailor an objective and meaningful explanation of the text he/she just read.
Each book report includes all the habitual paper sections, like:
In the first paragraph, you need to present the book, its author, and your further essay's main thesis.
In the body part, you will develop several arguments and highlight the most crucial parts of the text (with examples) supporting your interpretation.
In the last part of your paper, you need to summarize all the points described above laconically.
Now let's get into more details and the way a book reporting process goes.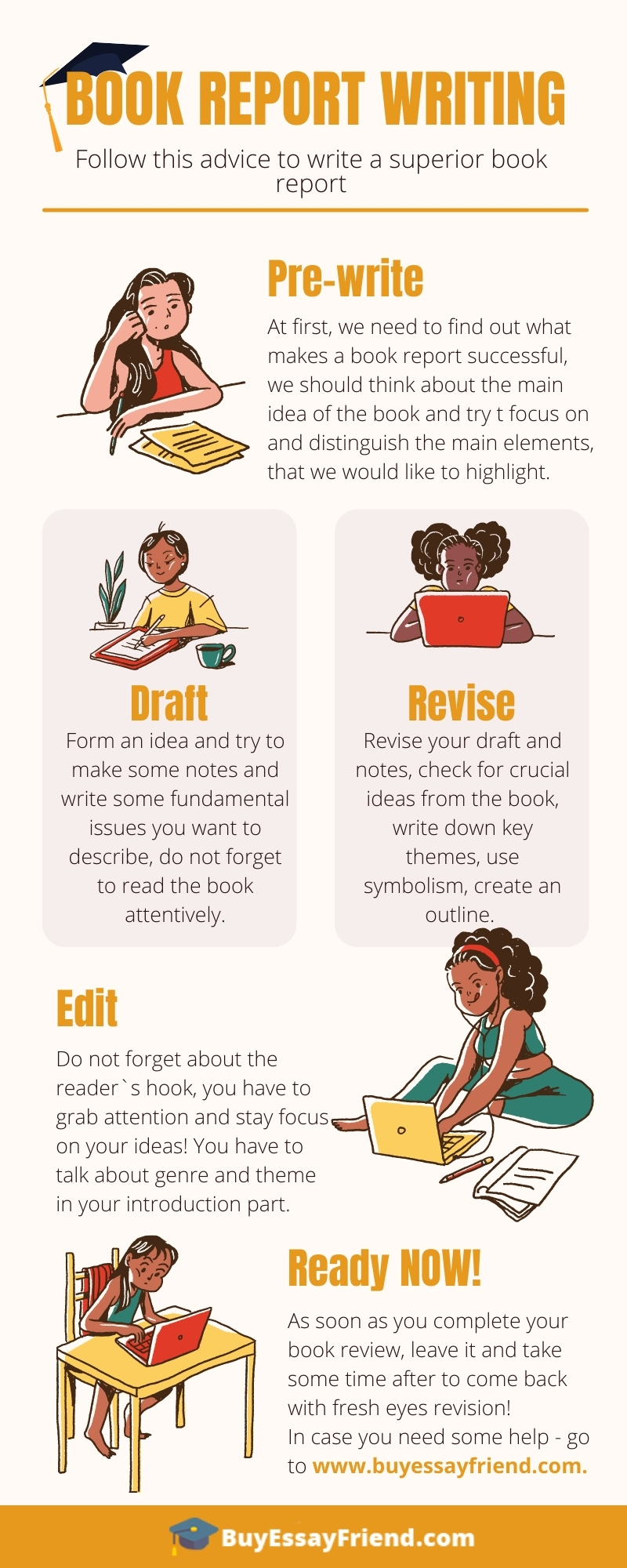 Pre-writing techniques
What makes a book report successful? First of all, it is a well-stated point or question related to the text's main theme. Second, a writer needs to support his/her interpretations with examples from the text, quotations, and symbols. Before you start writing a paper, think about the text for a while and distinguish the most important elements you would like to highlight. Here are some tips:
Make sure to state a precise question from the very beginning and follow it throughout the text.
Instead of reading a short summary, take your time to read the book entirely. It is important since summaries miss numerous crucial things, like the author's voice and language, the text's structure, and small details.
Keep pens, pencils, and sticky notes at hand – you will need them to write the crucial points down and mark the quotations to use later.
Distinguish the key themes
You should seek the major themes in the text and explain how you determined them, and prove your ideas to be relevant.
Most authors provide hints, so-called "red flags," in the text to help you grasp the main ideas better. Sometimes, they use symbols to indicate some important points and express them implicitly. Keep an eye on details, like a bird outside the window, characters' repetitive actions/words, nervous behavior, etc. Such details appear in texts for a good reason.
Don't ignore the power of outlines! When you finish reading the text, you will have a pack of notes with themes, essential details, and quotations. Reread your notes and find which points can back your main points up. List them in the form of an outline and decide the structure of your essay.
The writing process starts: introduction
Now you can start writing an introduction. Each book report should include an attention-grabbing "hook," the author's name, and the book title. Your task is to present the book, state your main idea, and encourage readers to continue reading. Sometimes, professors ask students to talk about the genre, theme, and author's position in the introduction.
Students usually have problems with the "hooks" – sentences included to kindle readers' interest. We have prepared some examples for you:
Flannery O'Connor's poignant brilliance and provocation play out in fresh colors with this masterful novel.
Can you recall a childhood episode that changed your entire life? In the book The Red Badge of Courage, a young character becomes an adult outliving a traumatic experience of war.
When including the general information about the book (year, author's name, and title), make sure to mention if this book is a part of the series and whether your readers should get familiar with other books before reading this one.
Continuation: body paragraphs
In the body paragraphs, you should share a short synopsis of the plot, but avoid revealing the ending and the twisting point (climax) at the very beginning – not only will you ruin the entire intrigue, but also remember that nobody likes spoilers! Instead of writing something like "the main character's husband is a killer," include a blurrier statement, like "there is an unexpected plot twist." If you cannot explain your main ideas without spoilers, warn your audience that you are going to reveal them right now.
Use your notes to write an extended summary of the book, and don't forget to add some quotes – they will help you underline the storyline's key points. Tell your readers how you perceived the main themes, characters, and setting. Do all the elements of the text work perfectly together? Did the author reach the effect and atmosphere he was trying to reach?
Also, as we have mentioned in the first paragraph, book reports may include your opinions and critique. The plot summary is crucial, but your thoughts about the book are even more interesting. When evaluating the text, avoid saying that it was "good" or "bad" or that you liked it or didn't – these are not academic statements. Tell your readers what you think about the book – why did you like it or why you found it frustrating. Here are some examples:
Nabokov's bright language made me excited, but the plot was too plain, and some parts didn't make any sense.
The premise of the story was brilliant, even though the characters' dialogues sound unnatural.
The protagonist is hard to relate to – it seems like the author doesn't understand his target audience's psychology.
Conclusion
Your last paragraph should restate the main idea and highlight the most crucial points you have made before. In some cases, students are asked to write whether they recommend reading the book or not – it depends on your professor's instructions.
Follow the tips described above, and your book report writing will become easier! Good luck!
---